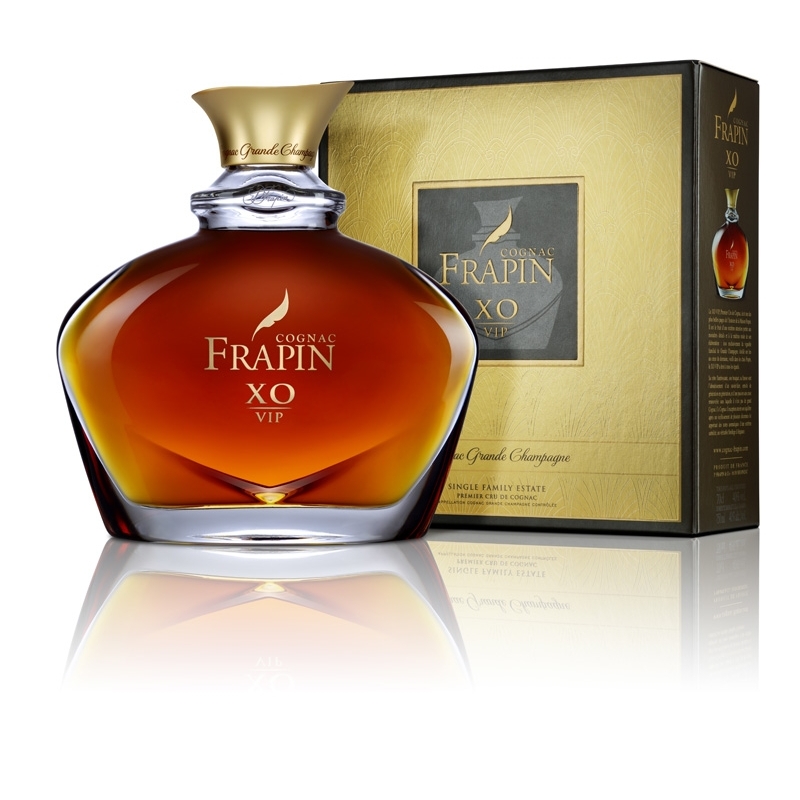  
Frapin XO VIP
Single Family Estate
Cognac Grande Champagne - 1er Cru de Cognac
70 CL
Alcohol content: 40°
Description
This blend, enhanced with very old cognacs of the family cellars, is harvested, distilled over lees and aged at the estate, whose 240 hectares are located in Grande Champagne. Its long ageing in our humid cellars combines roundness, bouquet and suppleness.
COLOUR: a cognac with rich bronze tones and a natural purity, Frapin XO VIP charms from the first glance.
BOUQUET: pleasing floral notes and a beautiful aromatic complexity punctuated with subtle woody tones. An overall elegance typical of aged Cognacs from Grande Champagne.
PALATE: after its delicate aromas, its power in the mouth comes as a surprise. XO VIP offers a palate of flavours, revealing in turn chocolate notes, dried fruit, candied fruit, and gingerbread. The expression is sophisticated and complex, with depth, but without ever losing the original freshness of the fruit. 
AWARDS
Cognac Master - Best XO 2020 (UK).
Cognac Master Asia - Gold Medal 2020.
ISW - Gold Medal 2020 (DE).
Cognac Master - Gold Medal 2019 (UK).
World Cognac Awards - Gold Medal 2017 (UK).
Gilbert & Gaillard - 96/100 2017 (FR).
IWSC - Gold Outstanding 2016 (UK).
Ultimate Spirits Challenge - 93/100 2016 (USA).