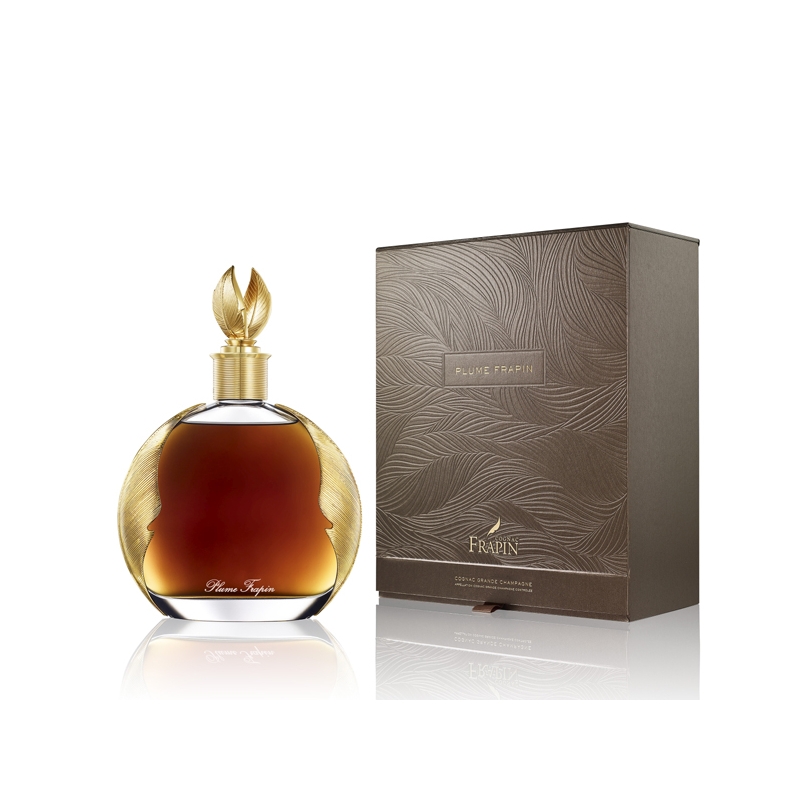  
Plume Frapin
Single Family Estate
Cognac Grande Champagne - 1er Cru de Cognac
70 CL
Alcohol content: 40°
Description
The quintessence of the Cellar Masters' expertise on which the company's reputation rests. Frapin Plume is a limited edition made from a blend of around twenty eaux-de-vie produced exclusively from the 240 hectares of vineyards around Château Fontpinot. This very old Grande Champagne cognac has aged patiently for several decades in century-old barrels in our Paradise "Pierre Frapin" humid cellar, favouring the roundness of this ancestral cognac. Its decanter is decorated with an 24-carat yellow gold stopper and feathers.
COLOUR: Plume Frapin offers a beautiful burnt orange colour.
BOUQUET : the bouquet is powerful and complex. Fruity notes of dried apricot, fig, orange, liquorice and tobacco, with cigar box notes that appear with time in the glass.
PALATE: Plume Frapin offers woody notes, prunes and candied fruits. The 'Rancio' flavour is well developed and the finish is exceptionally long. The flavour evolves greatly in the mouth.
AWARDS:
• Asia Summer Tasting - Gold medal 2021 (US).
• Ultimate Spirits Challenge - Best limited edition design 2015 (US).
• Gilbert & Gaillard - 99/100 2014 (FR).
• Gilbert &Gaillard - 99/100 2013 (FR).