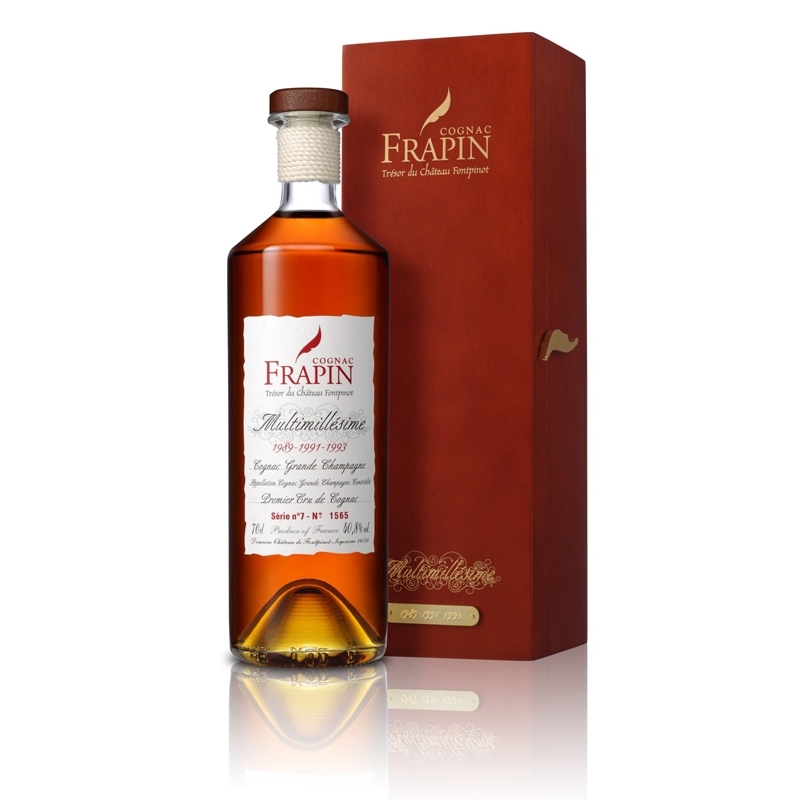  
Multimillésime n°7
Single Family Estate
Cognac Grande Champagne - 1er Cru de Cognac
70 CL
Alcohol content: 40.8°
Description
The quest for the perfect alchemy of rares eaux-de-vie, that offers a journey through time into the heart of Grande Champagne... Multimillésime n°7, the new release from the "Trésors du Château" collection, is the result of a unique terroir, ancient know-how and a passion for excellence. This exceptional cognac is the combination of 3 vintages selected for their sensory potential and complementary characteristics: 1989, 1991 et 1993. Blend of vintages exclusively harvested, distilled and aged at Frapin's Estate, Multimillésime n°7 offers the best from our terroir of 240ha located in Grande Champagne - 1st Cru of Cognac.
Limited edition of 3000 bottles. 
COLOUR: Multimillésime n°7 unveils a bright and beautiful colour with warm golden highlights.
BOUQUET: Multimillésime n°7 stands out by a gorgeous aromatic finesse and complexity. First impression in the mouth is floral, outshone by lime aromas before being won by gourmet fruity notes made up of orange, citrus fruit and dried fig scents.
PALATE: on the palate, this aromatic depth is revived by candied fruit notes like orange, apricot then by voluptuous vanilla notes. Multimillésime n°7 gives flavours melting into subtlety and complexity, typical of a grande champagne cognac distilled over the lees. It offers a long finish and remarkable persistence.
AWARDS:
International Spirits Challenge - Gold Medal 2020 (UK).
Gilbert & Gaillard - 98/100 2019 (FR).