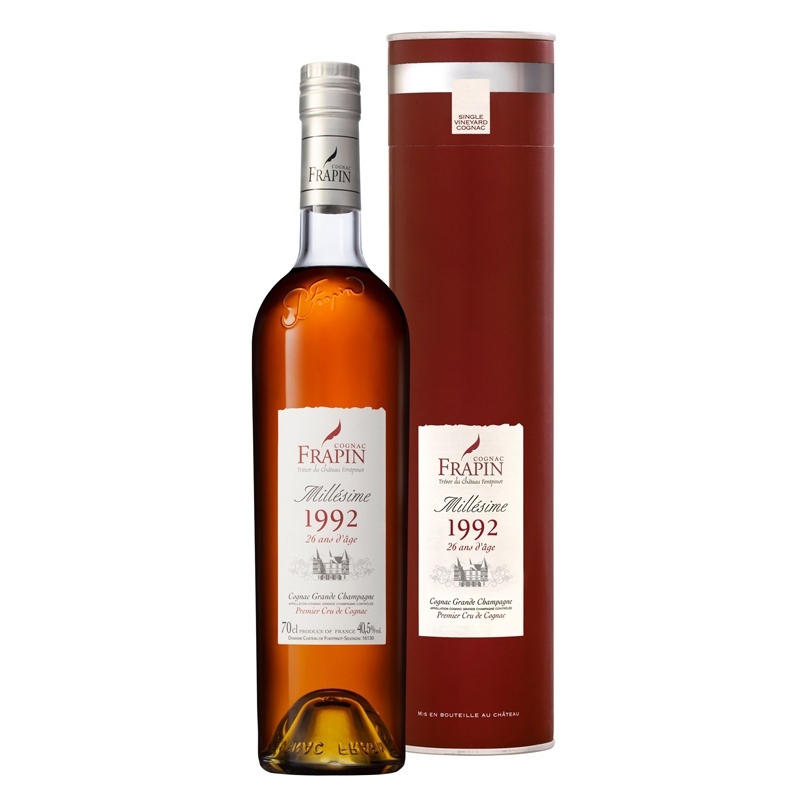  
Millésime 1992 - 26 ans d'âge
Single Family Estate
Cognac Grande Champagne - 1er Cru de Cognac
70 CL
Alcohol content: 40.5°
Description
An expression of age-old know-how, the 1992 vintage is the last to join Frapin's collection of rare cognacs. A rich aromatic palette and intense finish on the palate gives it the particular aura of exceptional cognacs, the quintessential expression of the Frapin style. That year, in the heart of the Grande Champagne, the vineyards exuded abundance. On the hillsides of the Château Fontpinot, harvest occurred at a perfect time when grapes had a high level of acidity and low levels of alcohol. These are essential conditions to ensure the concentration of aromas before the heating time. Distilled over lees and aged in sealed barrels in the dry cellar "Marie frapin" of the family estate's, this vintage XO gave it's angels' share over 26 years. This slow evaporation process enabled to carve its aromatic complexity and superb elegance.
Limited edition of 3000 bottles. 
COLOUR: bright colour that twinkles with warm highlights, brilliant and silky.
BOUQUET: fine and gourmet, revealing aromas of prunes and liquorice.
PALATE: an elegant and refined bouquet which develops subtle notes with delicate and floral variations soon to become rich and fruity underscored by a delightful note of orange. This cognac unfolds, offering a very long finish and revealing the unique elegance of Frapin Cognacs.
AWARDS:
Cognac Masters - Best Cognac of the year 2020 (UK).
Gilbert & Gaillard - 94/100 2020 (FR).